GMB / GBP Factory is the Best software for managing, posting and ranking GMB's on the Market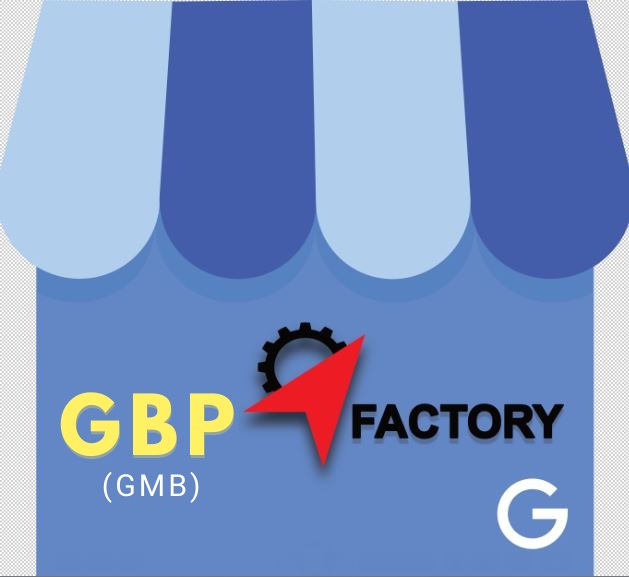 The Developers at GMB / GBP Factory have been working on building a Software platform that will help you save time and Help rank local GMB properties!
GMB / GBP Dashboard

GMB Main Poster Functions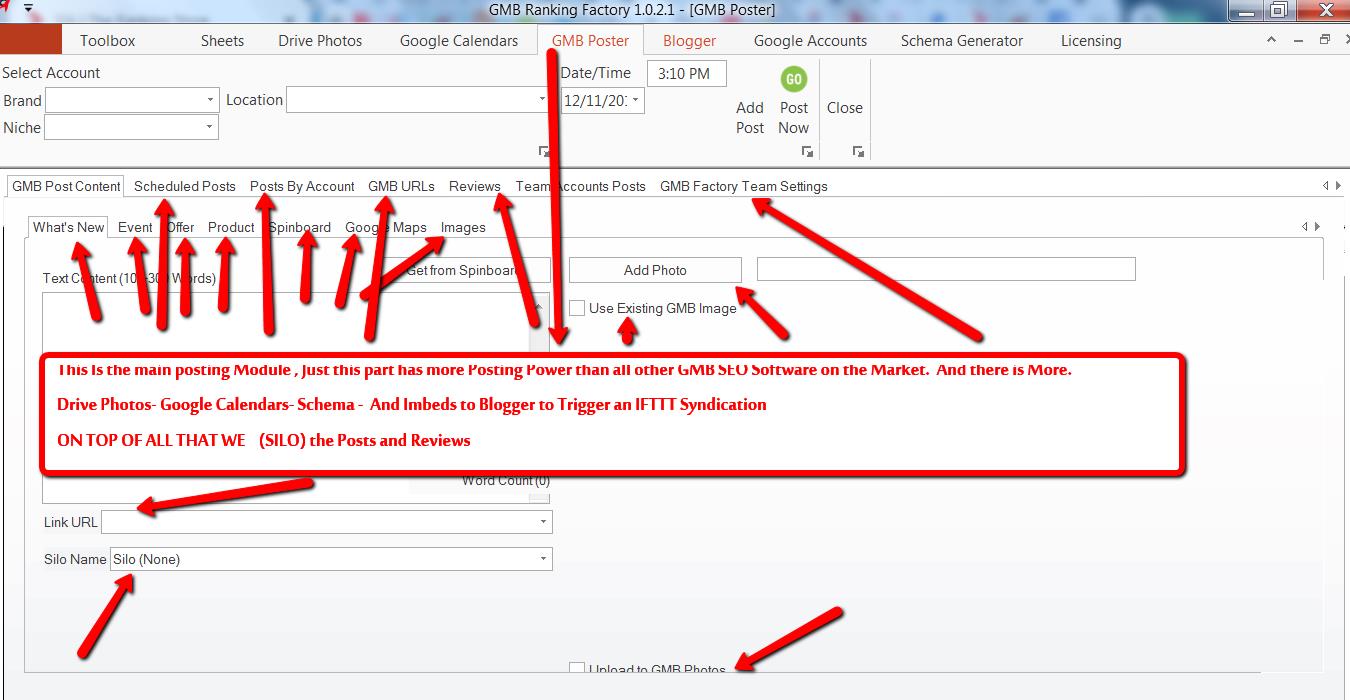 Google Accounts
GMB Schema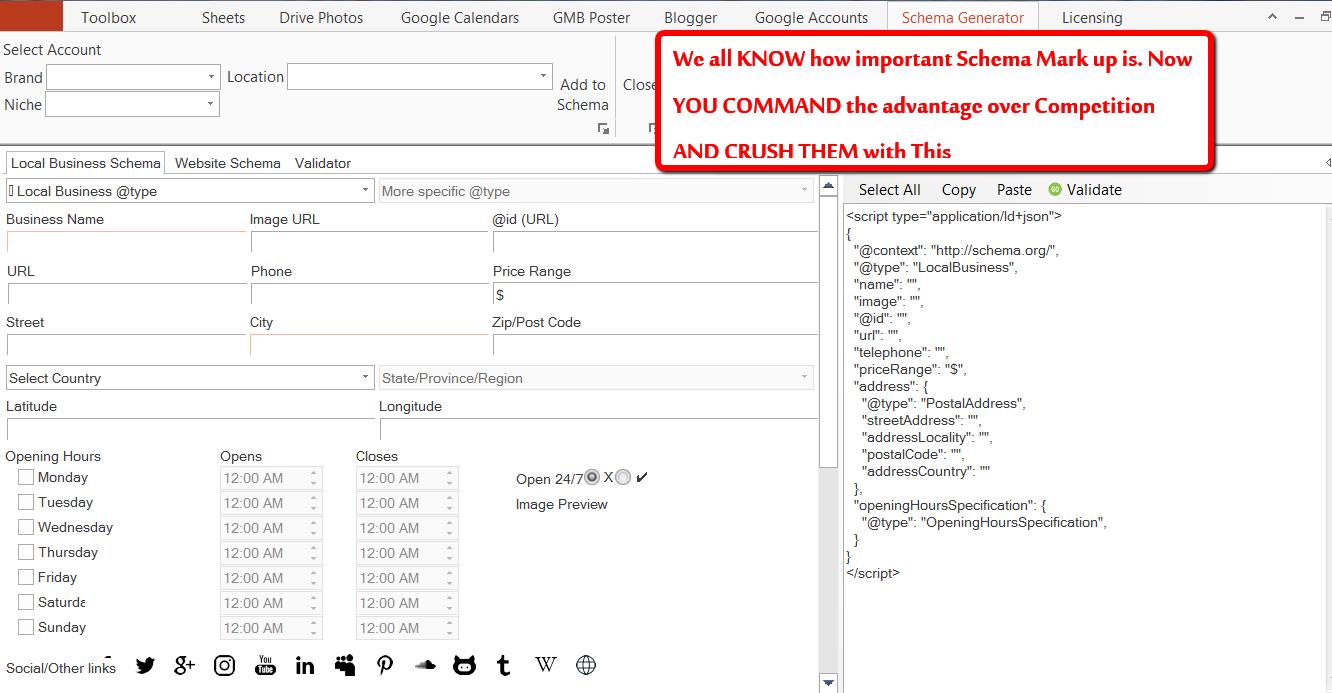 Google Maps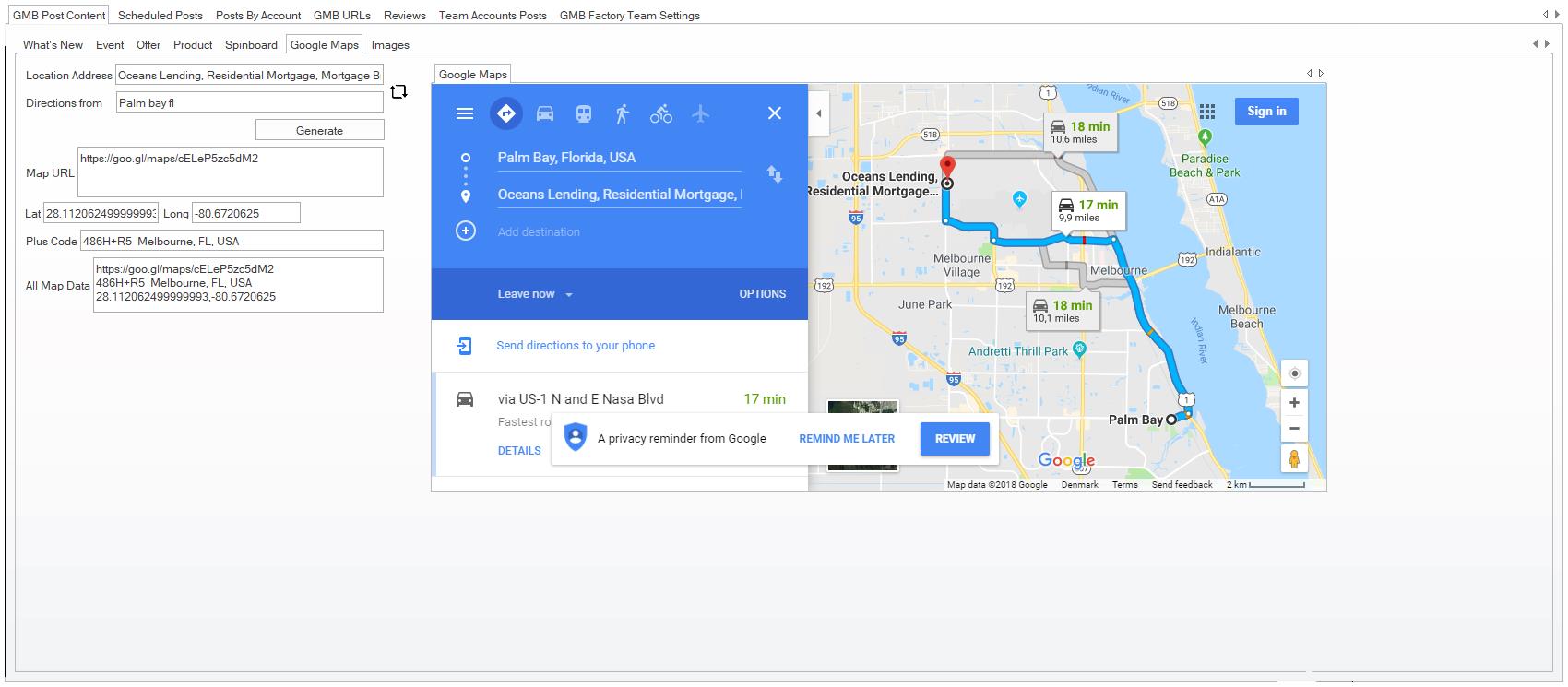 GMB Blogger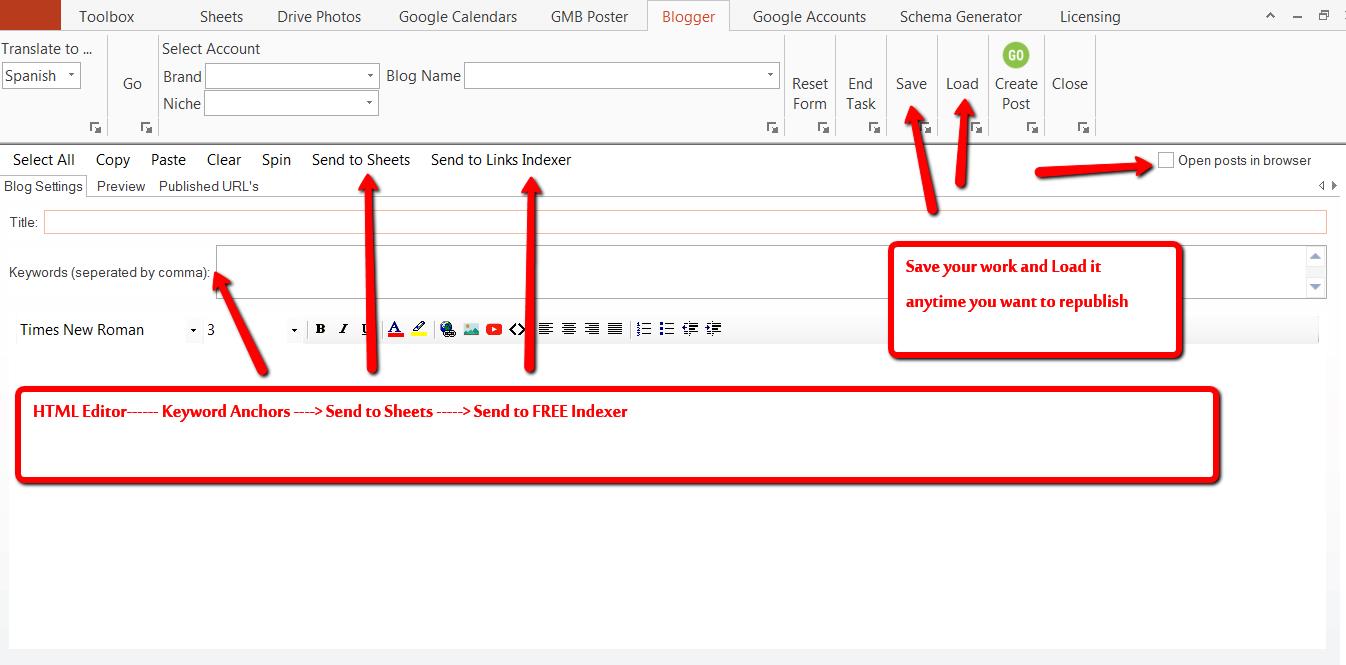 Drive Photos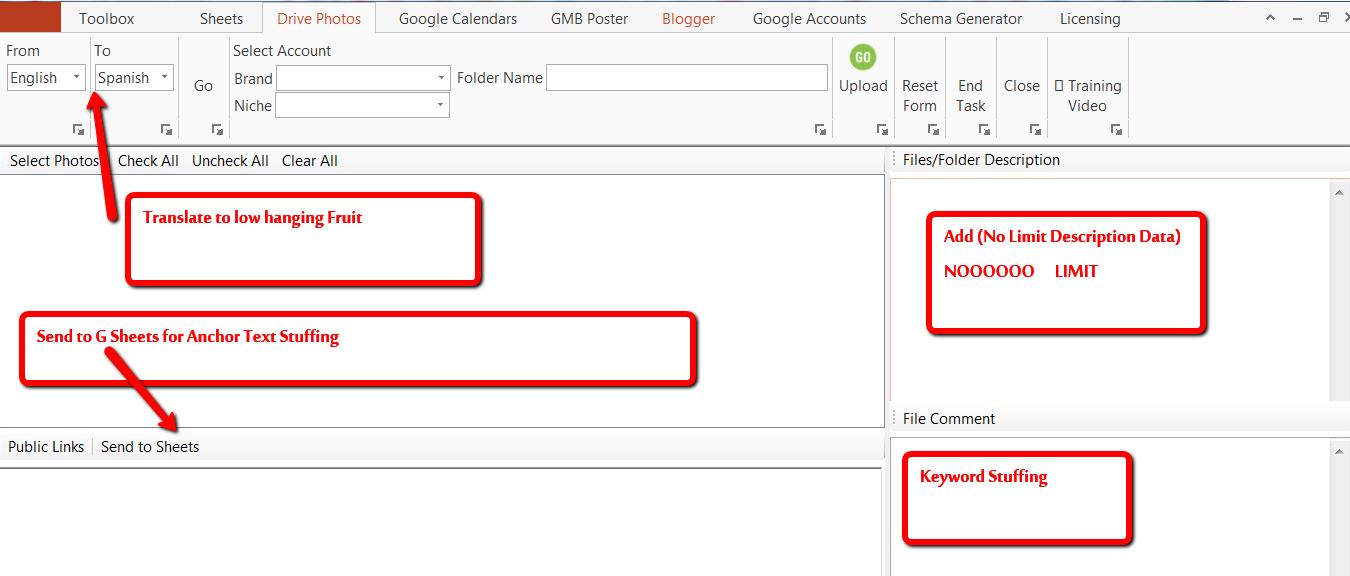 GBM Calendars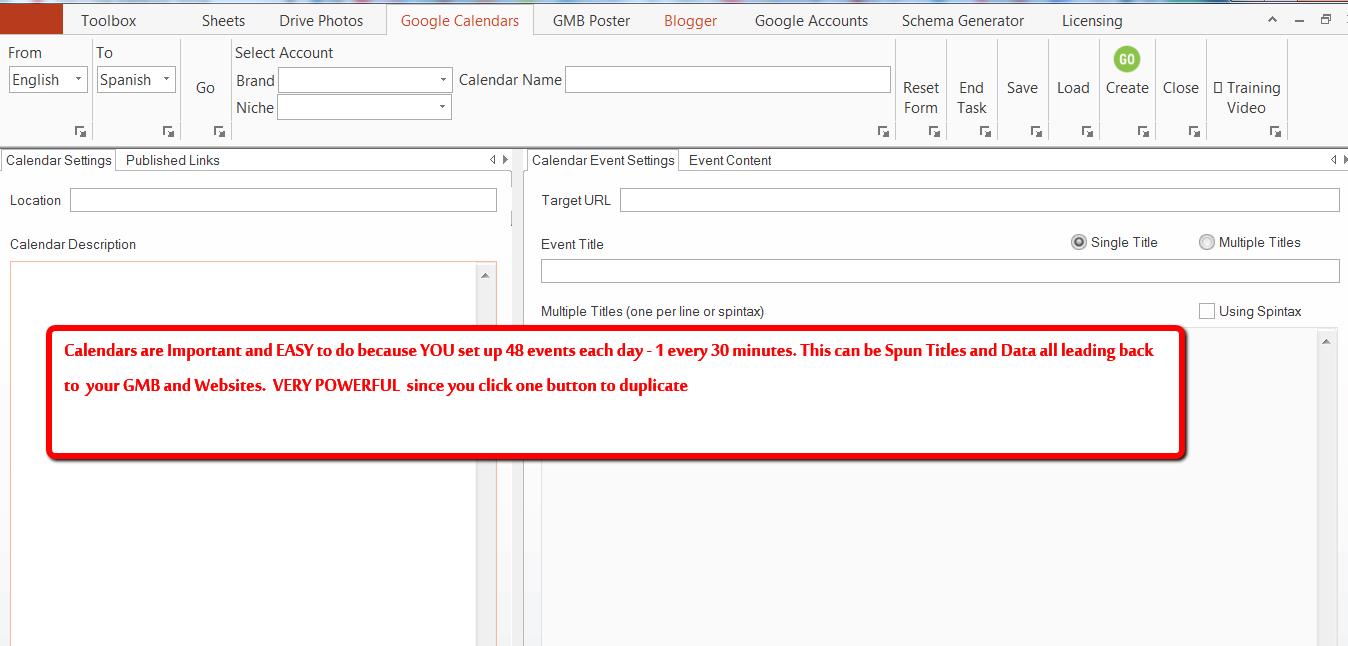 Google Sheets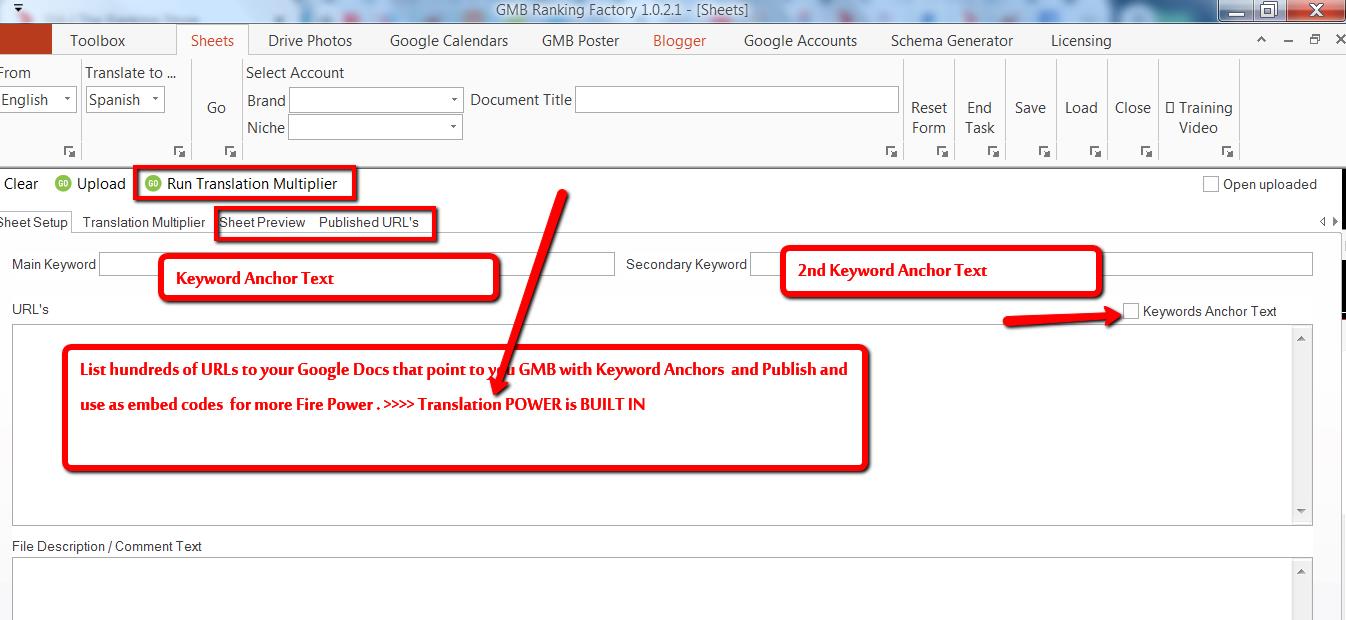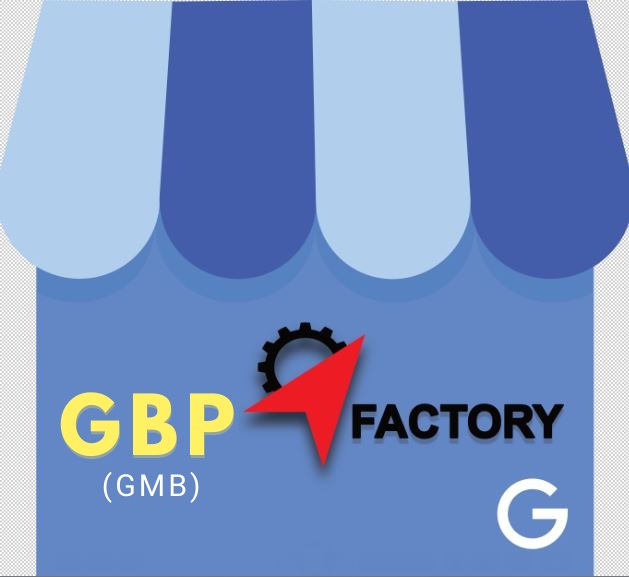 Google GMB / GBP Domination with the GMB Poster!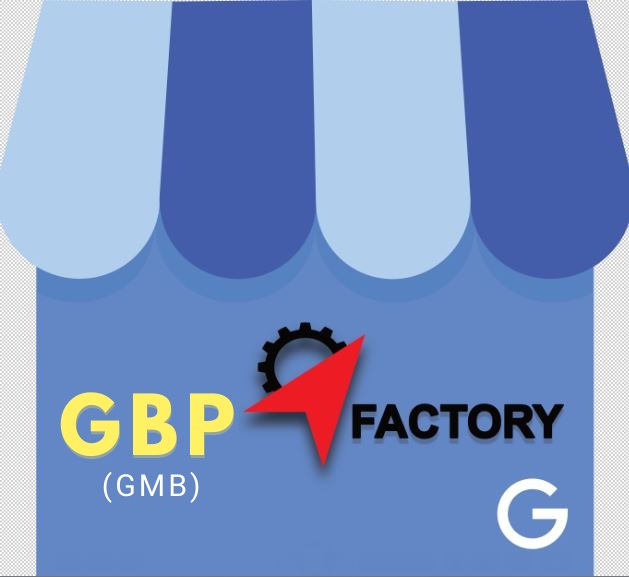 Ability to upload to the GMB / GBP without logging into each account!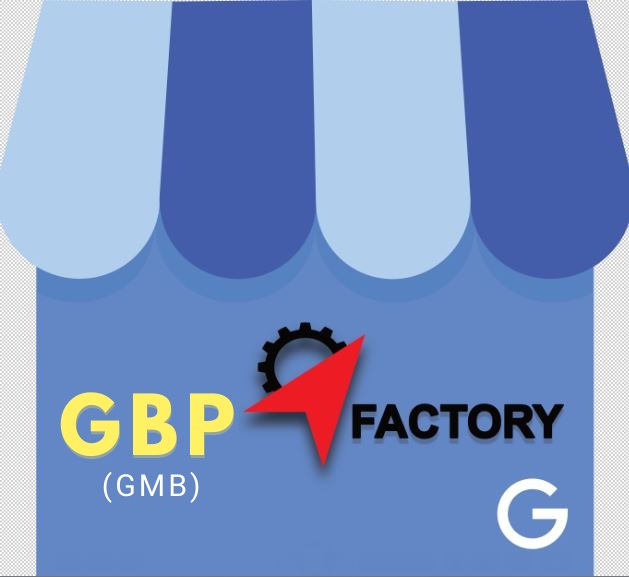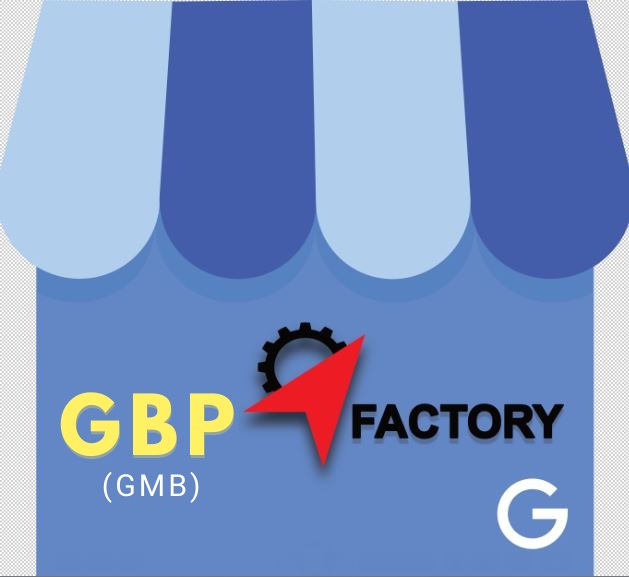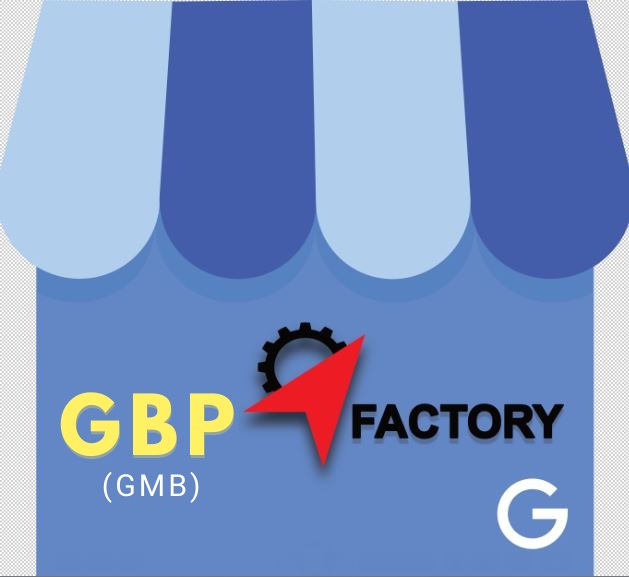 Ability to respond to reviews withing the software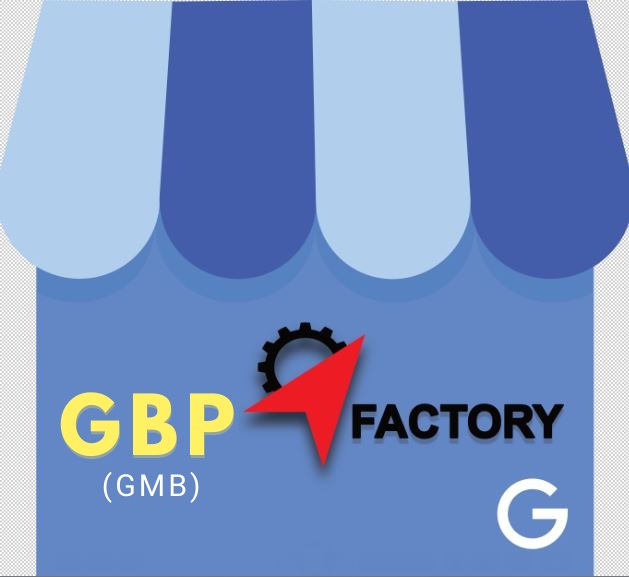 Schedule posts in the software to keep your GMB / GBP active and feed Google.
Watch
GMB / GBP Factory Review
"News Flash!!
With little bit of time every day spent with RFR over 2 weeks…
I moved a site from pos#20-23 (1 TLD URL that was bouncing) to pos# 1, 2 &3 with 3 URLs.
Not only that, but I own the video carousel And the image carousel on page 1.
Not only that, but I've got 3 web2.0s on page 1.
That means there's only 2 competitors links on page 1.
Hahahaha! (evil laugh)
Not only that…. It gets even better!
With the help of the GMB Mega Poster, I've moved the GMB from pos#17 to #1 in 5 days.
(I'm one of the beta testers)
This is for the two main kws in the toughest of niches!
How you like me now!"
Adrian McGivern, 12/14/2018
Pricing
GMB / GBP Factory Pricing
50% Off Limited Time – All Plans (v2 Webinar Special)
Coupon Auto Applied (till offer ends)
Advantage
1 License Monthly
Post types:

What's New

Events

Products

Spinboard

Images optimization

Silos

Schedule Posts

URL link grabber

Send links to Sheets

Send links to Indexer

Reviews

Tools:

G-calendars

Drive Photos

Blogger bridge

Insights

Iframe Generator

150 Google Backlinks for 2 Keywords- Bonus

Not included 301
Not included Schema
Not included Driving Directions
Advantage plus:

White label the reports

Insights

G-calendars

Blogger bridge

Data exporter to RFR & Link to RFR

301 checker

Q & A

iframes Creation

Driving Directions

Short link checker

Cora GBP SEO Report

500 Google Backlinks for 20 Keywords-Bonus
One Time Payment Pro Only
No Monthly Fees
Note this is the Pro version not Agency
Agency
3 Licenses + No Monthly Fee
All of Advantage

All of Pro

Pro Agency + 2 Extra Licenses = 3 Licenses
GMB / GBP Factory vs RFR RevolutionS
What is the GMB / GBP Factory?
GMB / GBP Factory is an all in one tool to manage GMB / GBP Listings and post in a single software solution.
This software is a perfect solution to sell the services of managing GMB / GBP's posts, reviews and much more!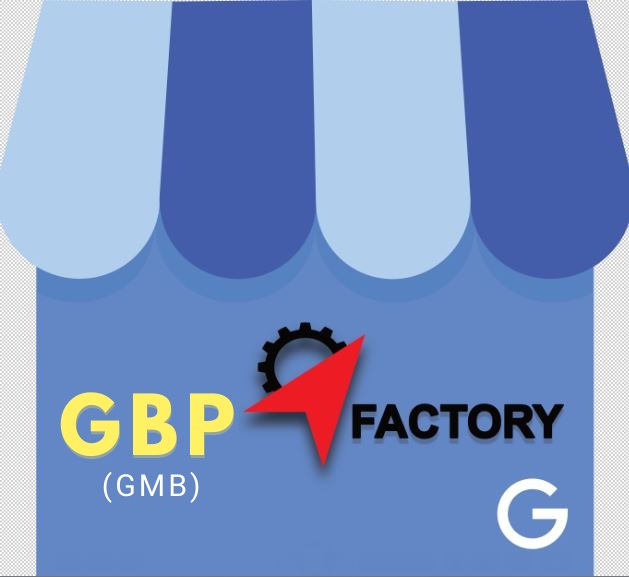 Set a schedule of post in advance and let the software do your work for the next month!
Spend a few hours setting up posts in the GMB / GBP Factory and you will be able to schedule out your posts for your customers weeks in advance!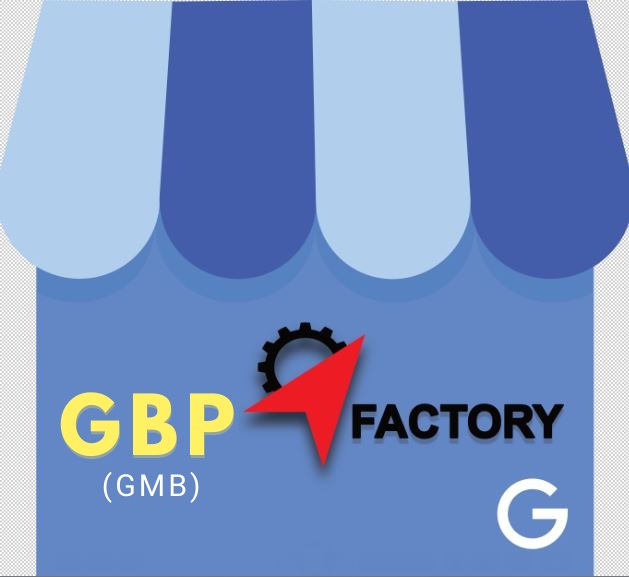 GMB / GBP Factory
All in one solution to manage multiple GMB / GBP's in one concise piece of software.  True scheduling of posts with the ability to stack them, built in ability to send the links created to google sheets, Upload photos to the GMB / GBP, Built in Schema and iFrame tools.  They added the option to add to the Calendar as well the ability to send the links directly to the Speed-Links Indexer.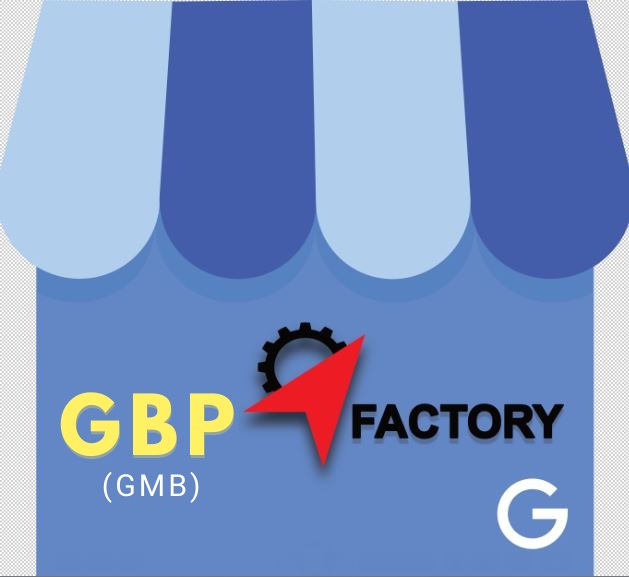 Guys, The GMB Mega Poster is Mind Blowing Software!!! I've been doing SEO for over 11 years (probably longer) and I haven't been this excited in an SEO tool in a LONG TIME! I have been fortunate enough to have been beta testing this software and even before I got my hands on it I knew this tool was going to be something that would quickly become a MUST HAVE SOFTWARE for any serious SEO / Local Business Owners.
The GMB Mega Poster is like nothing I have ever seen or used before and I have tried several commercial and private GMB Posting tools that couldn't even come close to doing what this all in one solution can do! The ones I have tested personally (I won't call them out publicly) were riddled with bugs and so basic that I stopped using them in favor of doing my GMB posting manually. Yeah. It was so bad that I would rather do it by hand!
That was UNTIL the GMB Mega Poster!!!
The GMB Mega Poster destroys all other GMB posting tools on the market! Not just because it can post directly to your clients or business GMB Posts. Hell, that's not even scratching the surface. It can also schedule posts out as far as you'd like. Even that's just basic for the GMB Mega Poster.
Imagine a desktop application that allows you to create your GMB posts all from within an easy to use software application. Posts that include rich optimized images or videos, a strong call to action to increase click throughs to your important pages, NAP or Map Directions, Plus Code for the business, Lat / Long information…Literally every possible optimiztion point that you could think of all in one simple to use tool!
And that's just the beginning…
You see at this point, everyone I know would already be hitting the buy now button, and so would I! But this isn't why they named this thing the GMB Mega Poster!
The GMB Mega Poster also has a built in feature that allows you to Silo your GMB Posts and stack them to drive even more power and relevancy through each post! This feature alone has so much power and authority behind it that you could be an SEO newbie and get your clients results as if you were a seasoned SEO!
This powerful software has the ability to create powerful schema markup, iframes, and much more! Imagine using one tool where you can schedule a fully optimized GMB Post or thousands and have it go out and post automatically to not only the clients Knowledge Panel but also directly adding it as fresh content to their Google Site as well!
If all this was NOT ENOUGH to get you to see the incredible power of the GMB Mega Poster imagine being able to send posts to blogger, and Google Sheets, then setting up an optimized Google Calendar Event and taking all those links and automatically sending them through the built in link indexer to get all those powerful links indexed and pushing power straight through your clients GMB and buisness website!
There's much much more the GMB Mega Poster can do like responding to GMB Reviews etc but Christmas has come early for this SEO!
I couldn't recommend the GMB Mega Poster highly enough!!!
Whatever the price tag they slap on this thing DO NOT HESITATE! Smash the buy now button and your clients will never again forget about putting the check in the mail!
I just want to chime in on my experience thus far beta testing the soon to be released GMB tool. Since I've been transitioning my company to pretty much solely work with businesses on their GMBs, this tool has truly covered every facet in relation to GMB Management and Powering up listings. I have been looking at various GMB tools for a while actually and almost bought some on Black Friday, but glad I didn't because this honestly is superior to the rest, no exaggeration.
I've been implementing my strategies with this software, that beforehand was being done with GMBs manually, and vast majority works flawlessly. Thankfully through our testing, we have been uncovering bugs and coming up with ways to troubleshoot errors someone may face.
I have been to able to post to various GMBs immediately, schedule out GMB post with a specified image for each one, and create Silo groups allowing each GMB to link back to their previous post respectively. I can make a blog post from the Blogger Module and include the iframe of my GMB Post inside of it. I built the iframe with the iFrame Generator Module of course  
We can create Schema, driving directions, pull all the live GMB Post links, Media links, etc., and respond to reviews, Its truly a standalone product. I didn't even mention the agency side where you can add team members and assign them specific areas and accounts. lol.
The main thing with this tool, or ANY tool for that matter is you have to have a process. Without a process, then you're just working blind. THIS is a GMB poster it does not replace RFR. They are two different products that do different things. Remember RFR builds your authority backlinks to BEEF UP your GMB's This is a 1-2 punch. MAKE YOUR COMPETITION CHASE YOU NOT THE OTHER WAY AROUND. This GMB tool streamlines my process and allows me to add to it, so its easy to use this in combination with RFR because my process has only evolved and become more efficient through the advantages these tools give me. I'm having fun. This tool will be a big help as I move forward with my 2019 GMB Initiative that I'm going to do across the country. Going to take advantage of my flight benefits haha.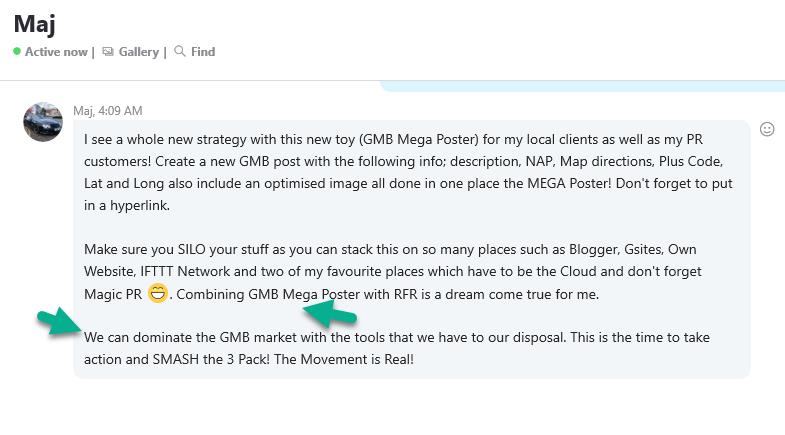 This piece of software, the GMB Mega Poster (horrible name, but accurate) is an ideal companion for my RFR. The GMP allows me to focus on ranking in the 3pack while also supplying me with iframes and schema I can put in my Gsites, Bloggers, Cloud stacks, etc… Since my goal with clients is to get them in that 3pack, plus a video carousel, plus and organic page all on top of Google the pairing of these two softwares automates so much of what needs to be done, and allows me to do it in multiple languages. Just awesome and I continue to realize new ways to put these two together to benefit my clients and therefore, me. Thanks guys!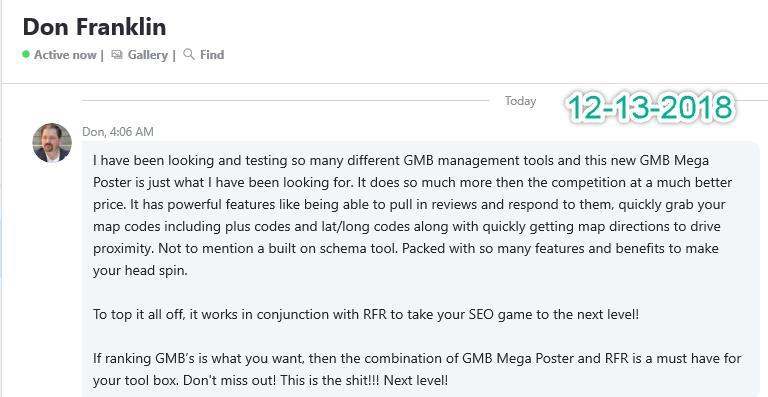 I have been honoured to be one of the beta testers for GMB RFR and I have witnessed the amazing result you when combining the powerful Ranking Factory Revolution development team and the GMB brilliance of Henrik Blicher Hansen.
I was overwhelmed to to be honest! I thought to myself 'where do I start?'.
I ran my install from a VPS as it it makes sense because of all the automation built into this awesome software.
There's so much this tool can do. Then the update came and wow more features!
GMB RFR can schedule auto GMB posts with silo linking, alter image meta data, posts to blogger (think IFTTT), create schema, pull up all urls and send to sheets, create iFrames (think post any where you like).
What about Maps? Well A to B travel routes, long/lay and Plus Codes in one click!!
I have made a few posts and used sheets and I am already seeing the GMB moving up towards the 3 pack. Imagine how much impact there will be when I use the other features!
So if you do GMB's you need this software suite because your competition WILL get it when it's fully released. And if you have RFR – which is a totally different software – along with the amazing forums included, you are going to absolutely dominate 2019!"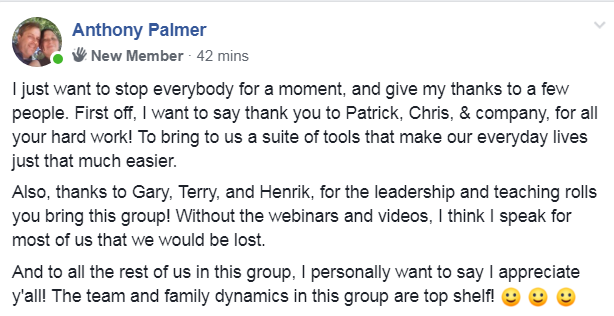 Why do you need the GMB / GBP Factory?
Are you looking to grow your SEO business and make money in ranking GMB / GBP properties? If your answer is yes, the only software that provides that in one easy to use software is
GMB / GBP Factory.  This software saves you time and time is money!
30-DAYS

 

MONEY BACK GUARANTEE
We do offer a 30 day refund for anyone that purchases GMB Factory and does not access the program , does not start any DFY campaigns and does not access the training section of GMB Factory. 

Our training information and systems are proprietary and valuable as to how to improve your ranking. Once you active or access our systems there is no refunds after 14 days of access. 

We offer a support desk and a Skype support room with many members that aid all members in solving problems and helping with ideas and ways to improve your GMB Factory experience. 

As a member also get direct access to the owners of the company should you need special help. This could include a private session with them to help you on your journey. 

All bonuses that are not GMB Factory related will be yours to keep as our way of saying thanks for trying us.